Chers tous,
Dans le cadre de l'Ecole d'été des Objectifs de Développement Durable, trois conférences
qui pourraient vous intéresser
sont ouvertes à tous .
Au plaisir de vous y retrouver pour échanger sur la façon dont le design comme interdiscipline aborde ces questions.
Bien cordialement,
Annie Gentes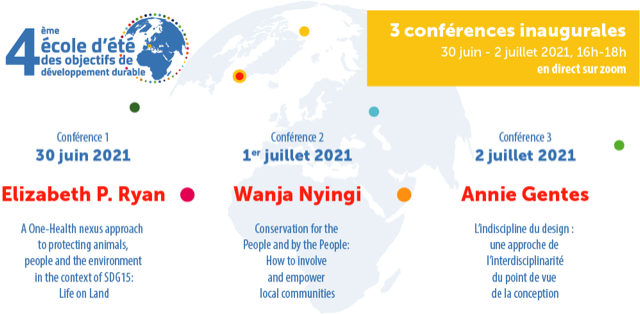 [English invitation below]

La 4e édition de l'
école d'été des Objectifs de développement durable
(ODD) réunira, en distanciel du 5 au 7 juillet prochains, 30 participants sélectionnés autour d'un travail de recherche collaboratif et interdisciplinaire sur les liens étroits existants entre biodiversité et santé.
From July 5 to July 7, 2021, the fourth edition of the SDG Summer School will gather 30 selected participants from all around the world, to conduct a collaborative and interdisciplinary research examining the intimate links between biodiversity and global health.
-
June 30, 4pm-6pm (GMT+2)
: "A One-Health nexus approach to protecting animals, people and the environment in the context of SDG 15: Life on Land", par
Elizabeth P. Ryan
,
Associate Professor in the CSU College of Veterinary Medicine and Biomedical Sciences
- July 1,

4pm-6pm (GMT+2)
: "Conservation for the People and by the People: How to involve and empower local communities", par
Wanja Nyingi
,
Head of Ichthyology, National Museums of Kenya
Coordinator of Kenya Wetlands Biodiversity Research Group (KENWEB)
- July 2, 4pm-6pm (GMT+2)
: "L'indiscipline du design : une approche de l'interdisciplinarité du point de vue de la conception", par
Annie Gentes
,
Associate professor in Information and Communication Sciences at the school of engineering Telecom ParisTech and Head of the Codesign Lab

[conference in French]
>
Join the conference